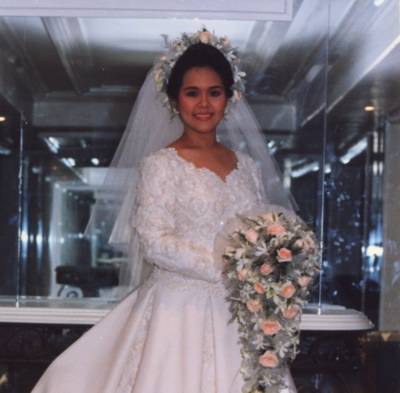 Something old, something new, something borrowed, something blue...things that a bride-to-be would gather (as per instruction from old ladies in the family) for this much awaited occasion...her wedding day. If I may recall, since my wedding was to take place in Intramuros, Manila, anticipating traffic congestion, I dressed up in a room at the Manila Hotel just so to avoid having to make my groom wait. I was sort of nervous that day, but somehow, things were pretty much hassle-free. After dressing up and posing for video (that seems to have take an eternity), I went down to the lobby, half expecting the scene that I would create with that 6-ft train of beaded satin trailing behind me. True enough, there was a crowd of tourists, mostly Asians, who gathered at the reception area...The camera man took a few pictures as I glided across the hall. I knew that everyone's eyes were on me ;-) I felt like cinderella who's about to ride her pumpkin carriage. And then, I heard it...a reverberating applause from the foreign guests! I smiled back as I saw them nod in approval of the mystique walking past them...there it was, my 30-second claim to limelight!
Today, as I traipse down memory lane, all these things have become part of a fairytale that ended years ago...in fact, it ended just a week after my wedding day. No regrets though...for whatever it's worth, having lived and learned the hard way has shaped me (i think) into a better person...better, not necessarily wiser (i still stumble and feel idiosyncratic at times...I know there's still a lot more in life to learn about), but a lot better in the sense that I've discovered myself as to the things that I'm capable of doing...I've learned to love myself!
A wedding is just the start of a colorful, adventurous life. These i learned: something old - what you are willing to give-up for that one person you love; something new - the things that you are willing to go through with your loved one, no matter what; something borrowed - your spouse...borrowed-to-own-eventually...keep in mind that he's not from your side of the family...his values are different from that of yours...learn to compromise; something blue - your life will turn blue, the magic will be gone, if you don't know how to take care of your man...well, mine is a different story :)
In conclusion, i'd keep these things in mind...just in case i get to wear that ecru gown...again!